The ​​Calming Adaptogen
Discover the transformative power of an ancient Ayurvedic remedy with our premium tulsi supplement. For thousands of years, holy basil (Ocimum sanctum) has been prized for its ability to soothe the body, mind, and spirit, promote mental balance, support a healthy response to stress, and foster full-body wellness. This sacred herb has been used in Ayurvedic medicine for centuries, and its therapeutic properties have been praised by practitioners and healers alike. Our premium tulsi supplement offers the purest and most potent form of this time-honored remedy, carefully sourced and expertly formulated to deliver maximum benefits. Embrace the transformative power of tulsi and rediscover a sense of balance.
Anyone who wants to calm the mind and body.
Shake bottle well. Take 1 ml twice daily or as recommended by your healthcare provider.
View full details
Uniquely Made

The Queen of Calming Herbs

Our premium tulsi supplement is made from the highest quality organic tulsi leaves, carefully concentrated using our proprietary Raw Herbal Extract™ technology. With this powerful combination, you can feel confident and ready to handle whatever life throws your way. Our proprietary Raw Herbal technology preserves the essence of the plant's powerful healing nature without heat, alcohol, or harsh chemicals, so you receive the most potent, bioavailable liquid extraction.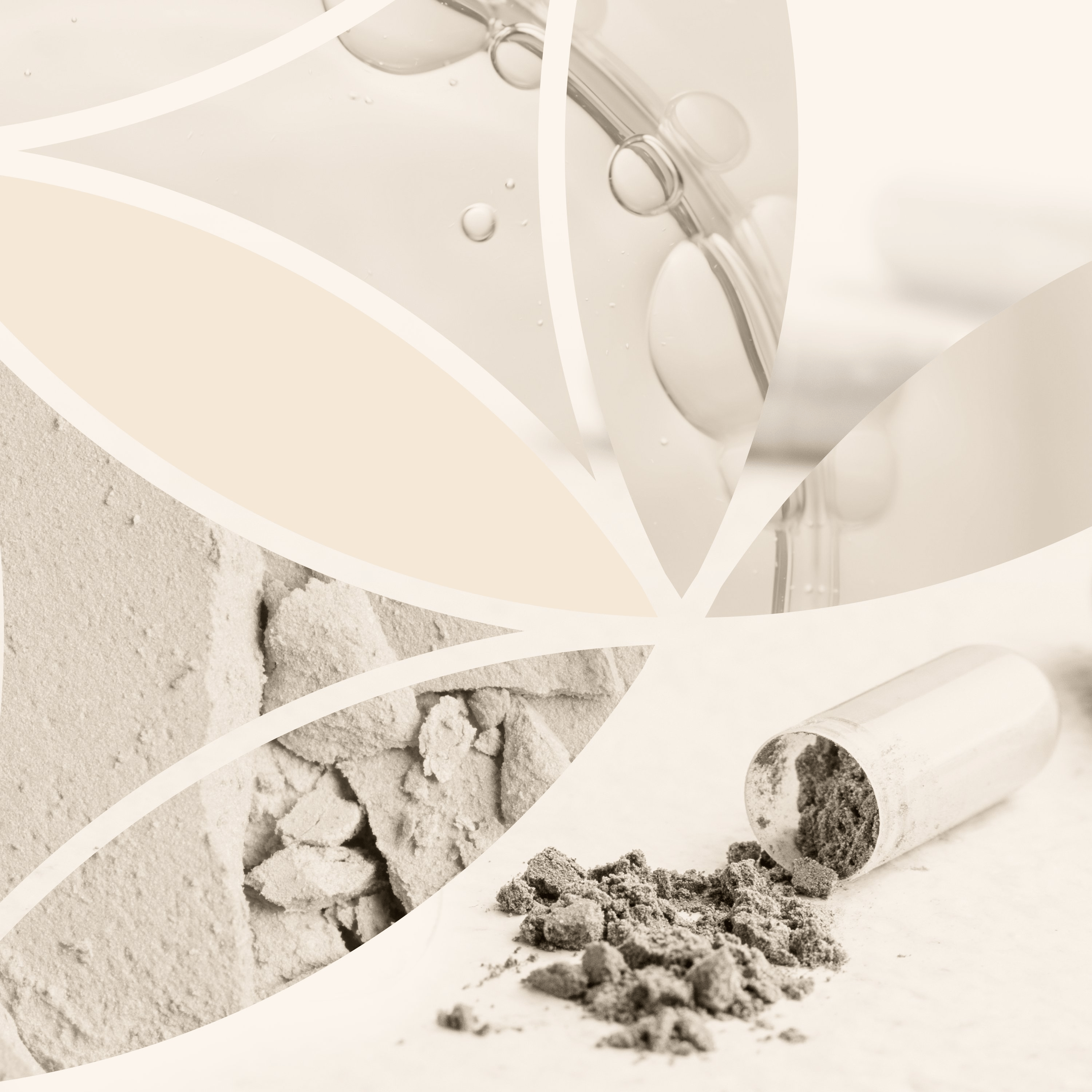 The Benefits

How Tulsi Leads to a Better You.
Calm Nerves

Tulsi, or holy basil, is a renowned adaptogenic herb that has been used for centuries to help the body cope with stress. Its adaptogenic properties help to reduce cortisol levels and promote relaxation, making it an excellent choice for anyone seeking a natural way to manage stress and promote overall well-being. Tulsi's ability to calm the mind and increase mental clarity has also been well-documented, with many people reporting improved focus and concentration after incorporating it into their daily routines.
More Restful Sleep

For those seeking a natural way to improve sleep quality, tulsi may offer a promising solution. This powerful herb contains compounds that have been shown to have a calming effect on the nervous system, helping to reduce anxiety and promote a sense of calmness that can support better sleep. Additionally, research suggests that tulsi may help regulate the sleep-wake cycle, making it easier to fall asleep and stay asleep throughout the night.
Whole-Body Wellness

Tulsi offers a wide range of benefits for the body. It stimulates the upper respiratory tract, promoting clear and comfortable breathing, while also helping to ease redness and swelling throughout the body. Additionally, tulsi is a rich source of plant compounds and minerals that can naturally boost and strengthen the immune system, helping you feel your best and stay healthy.
Made With

Clean, Pure, Premium Ingredients
100% VEGAN | GLUTEN-FREE | NO ADDITIVES, FILLERS, OR PRESERVATIVES
This premium extract is derived from organically grown dried leaf and flowers of the Ocimum sanctum plant.
The Impact

Deep Sigh of Relief
From Sadie J.
This product is just precious to me, when I'm feeling anxious or overwhelmed I take these drops and my whole body just feels like it takes a big sigh of relief.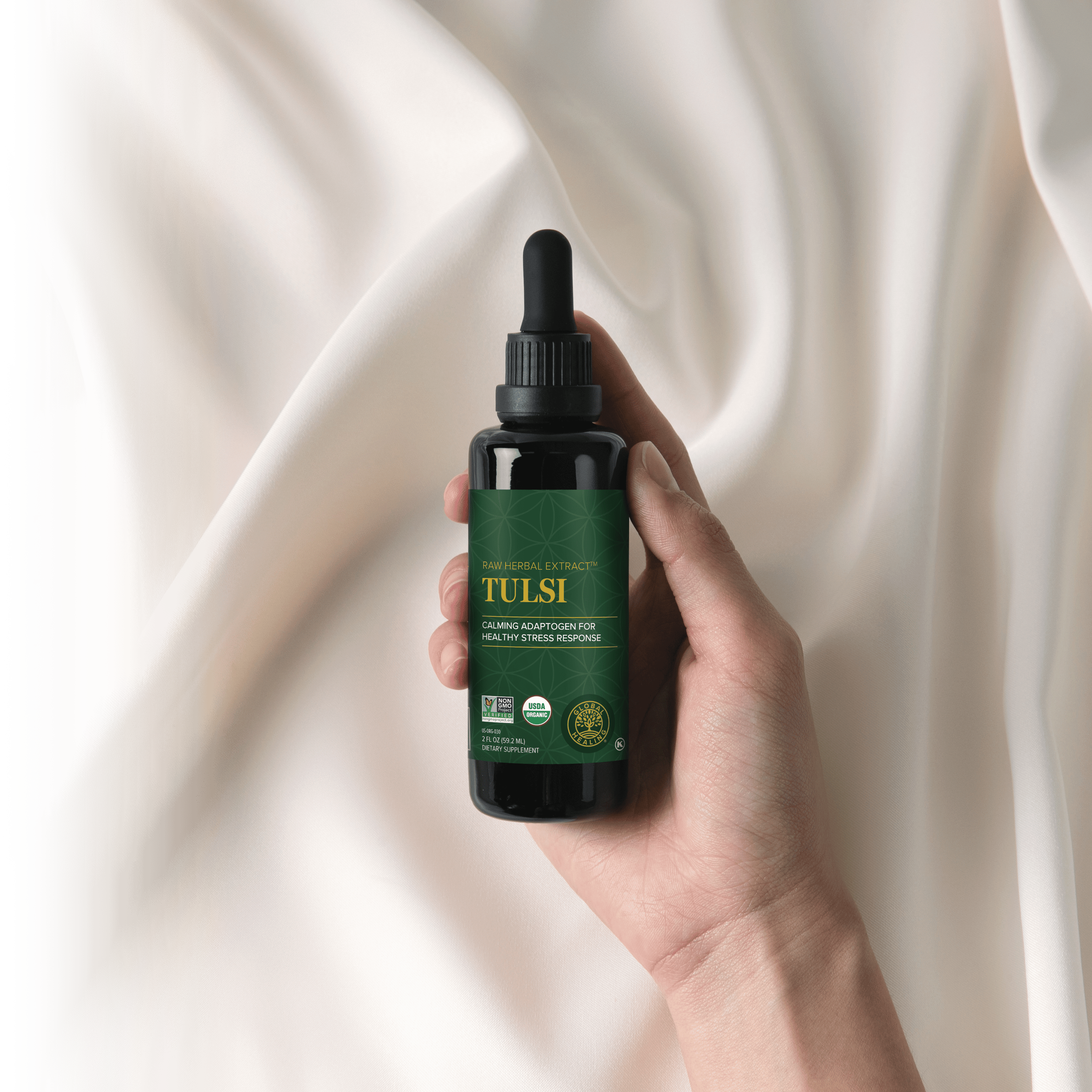 Curate Your Collection
Our customer success team selected these products to further transform your health.
Adaptogen Stress Relief
Experience a new level of stress relief with our cutting-edge ashwagandha supplement. Ashwagandha is a wonder herb that's been used for centuries to elevate mental well-being. Plus, our formula is a concentrated blend of four powerful forms of ashwagandha root.
$24.95
Adaptogen for Energy
Unlike coffee or energy drinks that can cause crashes and adrenal fatigue, our Ginseng offers a safe and effective solution to help you tackle life's demands with ease. Tune up your energy levels and attitude with our organic Ginseng today.
$29.95
Superfood for Total Wellness
Moringa is a nutrient-dense superfood packed with vitamins, minerals, antioxidants, and amino acids. With its potent nutritional profile, moringa can help support overall health and wellness by providing the body with the essential nutrients it needs to function optimally.
$19.95
Frequently Asked Questions
Can I add this to my tea?

Yes, you may add a serving of tulsi to your warm or iced tea to give it a natural, therapeutic boost.
Do you have any tea recipes?

Yes, check out this calming recipe that combines tulsi with other herbs that help anxiety. You can add the ingredients to a fill-it-yourself tea bag, or a metal strainer, or you can just boil everything together in a pan or kettle, then strain the herbs out afterward.

Stress-Relieving Tulsi Tea Recipe

Ingredients

1/4 teaspoon dried rosebuds
1 teaspoon peppermint leaves
1 teaspoon chamomile
1 ml Global Healing Tulsi™ liquid extract
1 cup hot water
1 teaspoon Stevia or raw honey

Directions
Steep the dried rosebuds, peppermint leaves, and chamomile in hot water for 10 minutes.
Strain and add the Tulsi extract to the tea.
Sweeten with Stevia or raw honey if desired.
Enjoy your calming tea!
Can I take this while breastfeeding? 

Tulsi is not recommended for pregnant or nursing women.
Do you recommend cycling on and off tulsi or can it be taken continuously?

Tulsi is great for everyday use and it can be added to your daily routine with no issue.
What is holy basil?

Holy basil is a green, leafy plant with purple flowers. Part of the mint family, this aromatic shrub was originally native to India. The leaves, seeds, and flowers of holy basil contain many nutrients, including vitamin A, vitamin C, calcium, zinc, and iron.
What does the holy basil extract taste like?

Tulsi has a natural, plant-derived taste with hints of clove, mint, citrus, and anise. Our organic, plant-based glycerin base adds a mild sweetness to the flavor profile without affecting blood sugar.
Does this product interact with other drugs, supplements, or herbal products?

Tulsi, like many other beneficial herbs, supports circulation by causing a slight thinning of the blood. Taking tulsi with prescription blood thinners is not recommended and should only be done under the strict supervision of a qualified health practitioner that can monitor specific blood clotting markers.
Do you recommend cycling on and off tulsi or can it be taken continuously?

Tulsi is great for everyday use and it can be added to your daily routine with no issue.
How many mg of holy basil is in each ml of tulsi?

The amount per serving is currently part of our proprietary information. In most cases, people have experienced desirable results with taking 1 ml in the morning and again in the evening.