Together at Global Healing
Global Healing is the premier online source for natural health information and products. It's our mission to promote education and provide solutions that improve the lives of people around the world. Our products are of the highest quality and made with state-of-the-art manufacturing technology. We hire people who are passionate about helping others and making the world a better place.
We are here to educate, support, and provide the tools necessary to live a long, healthy, and happy life.
Health & Wellness Resources
Our company culture revolves around promoting a healthy, happy lifestyle. We offer employees a generous health and wellness benefit that reimburses them for fitness programs, massages, natural preventative care, and education. We've partnered with local massage therapists and created a program to provide regular massages during office hours. Everyone is encouraged to take a break as needed and go for a walk, meditate, or stretch.
Comprehensive Benefits Package
We are proud to offer a comprehensive benefits package that includes medical, dental, and vision coverage, 401k match, life insurance, long- and short-term disability, and maternity/paternity leave.
Healthy Organic Snacks
We want to make sure that our employees are fueled for the day, so the break room is stocked with healthy treats, fresh fruit, and organic coffee and espresso.
Birthday PTO
We celebrate all of our employees by giving a paid day off on birthdays and encourage them to take a fun day for themselves.
Family-Friendly Flexible Schedule
We're a family-run company and understand that family is the most important commitment of all. To encourage a healthy work-life balance and ensure that everyone can make time for the things they love outside of work, we have a flex-time schedule.
Product Stipend & Discount
We want everyone to have the power to live healthy, especially the people on our team! That's why we offer an annual stipend for Global Healing supplements and have products available for employee use in the break room.
Ergonomic Workstations
We've created a comfortable working environment complete with stand up desks and access to mats, balance boards, yoga balls, and desk ellipticals. Everyone is provided with Gunnar eyeglasses to help reduce vision fatigue. If you need a quiet space occasionally, individual workstations are available.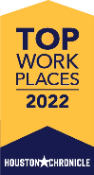 Houston Chronicle Top Workplaces 2022
Global Healing has been awarded the coveted Top Workplaces award for 2022.
---

Inc. Best Workplaces 2017
Inc. 5000 named Global Healing as one of the top 10 places to work in Texas.