Natural Heartburn Relief
Indulge in the ultimate relief for your heartburn with our exclusive Acid Reflux Relief. Carefully crafted with a premium blend of organic ingredients, including the revered apple cider vinegar and six other time-honored herbs, our solution provides unparalleled soothing for occasional heartburn, indigestion, and digestive irritation. You deserve the very best, and that's why our formula supports your body's natural defense against digestive inflammation by promoting a healthy stomach pH. Unlike many chewable over-the-counter options, our solution offers a liquid base of organic glycerin that increases bioavailability without causing further indigestion, delivering an unmatched and convenient experience.
Those who experience heartburn and indigestion.
Shake bottle well. Take 1-2 ml before, during, or after meals or as directed by your healthcare provider.
View full details
Uniquely Made

Herbal Alchemy for Total Relief

Finding relief for GERD, which affects 1 in every 5 people, has never been easier. Experience the fast-acting protection of Acid Reflux Relief, fortified with powerful botanicals. Formulated with our proprietary Raw Herbal Extract™ technology to preserve the essence of the plant's powerful healing nature. These premium ingredients are extracted without heat, alcohol, or harsh chemicals, so you receive the most potent, bioavailable liquid extraction on the market.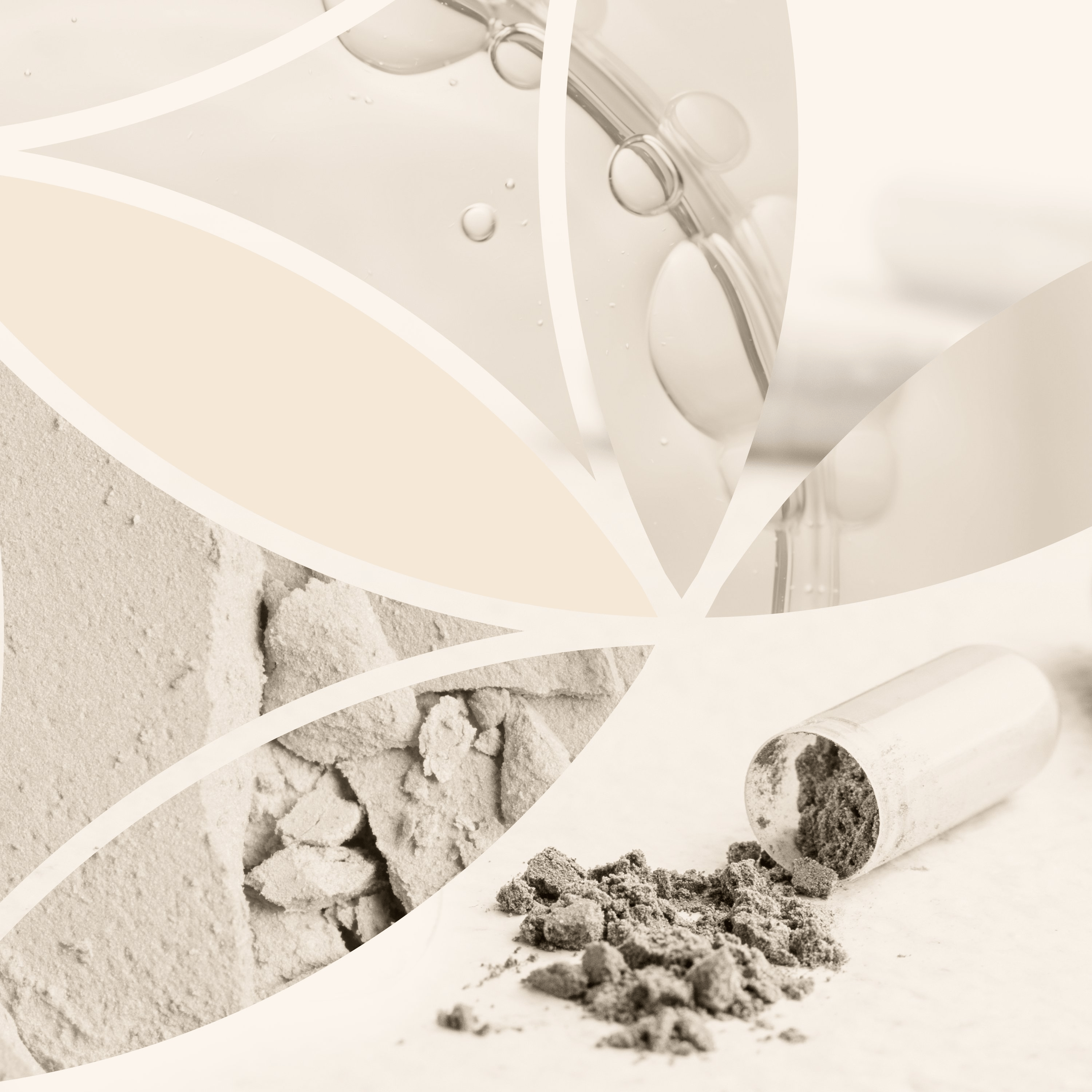 The Benefits

How Acid Reflux Relief
Eases Heartburn & Indigestion

If you've had heartburn, then you know how it feels — not pleasant. The causes can vary from spicy foods to even stress. Instead of chewable tablets, we've got a cleaner supplement for you to relieve heartburn. Acid Reflux Relief is a powerhouse of botanicals and is in a base of organic glycerin, which increases the bioavailability without causing further indigestion.
Soothes Digestive System

This digestive supplement uses a blend of ingredients like aloe, marshmallow root, and meadowleaf to provide a layer of protection for your digestive system. One of our favorites in our blend, slippery elm bark, is dubbed the "king of digestive herbs" for a reason — this superfood is packed with mucilage to nourish and soothe your gut. Treat your digestive system right with this organic botanical blend.
Support Healthy Stomach pH

Did you know that low stomach acid is a common cause of acid reflux? That's why we've included organic apple cider vinegar work to lower the pH in your stomach and provide ease.
Made With

Clean, Pure, Premium Ingredients
100% VEGAN | GLUTEN-FREE | NO ADDITIVES, FILLERS, OR PRESERVATIVES
Apple cider vinegar helps indigestion by increasing the acidity in the stomach, which in turn helps to break down food and improves the digestive system.
Aloe helps your body's response to inflammation and is known for its soothing properties.
Meadowsweet helps neutralize stomach acid, ultimately providing relief from heartburn.
Slippery elm helps heartburn by coating the lining of the throat, stomach, and intestines with a gel-like substance that neutralizes stomach acid and promotes healing.
Chamomile contains properties that help relax the muscles in the digestive tract, which can relieve symptoms of indigestion such as bloating, gas, and stomach cramps, making it an effective natural remedy for digestive health.
The Impact

Finally, Something That Works

From Kendall M.

I've been dealing with acid reflux for years, and I've tried so many different products that just didn't work for me. But then I discovered Acid Reflux Relief, and I can honestly say it's been a game-changer for me. The natural and organic ingredients are gentle on my stomach, and the liquid solution is easy to take. What's even better is that it works quickly — I can feel relief almost immediately after taking it.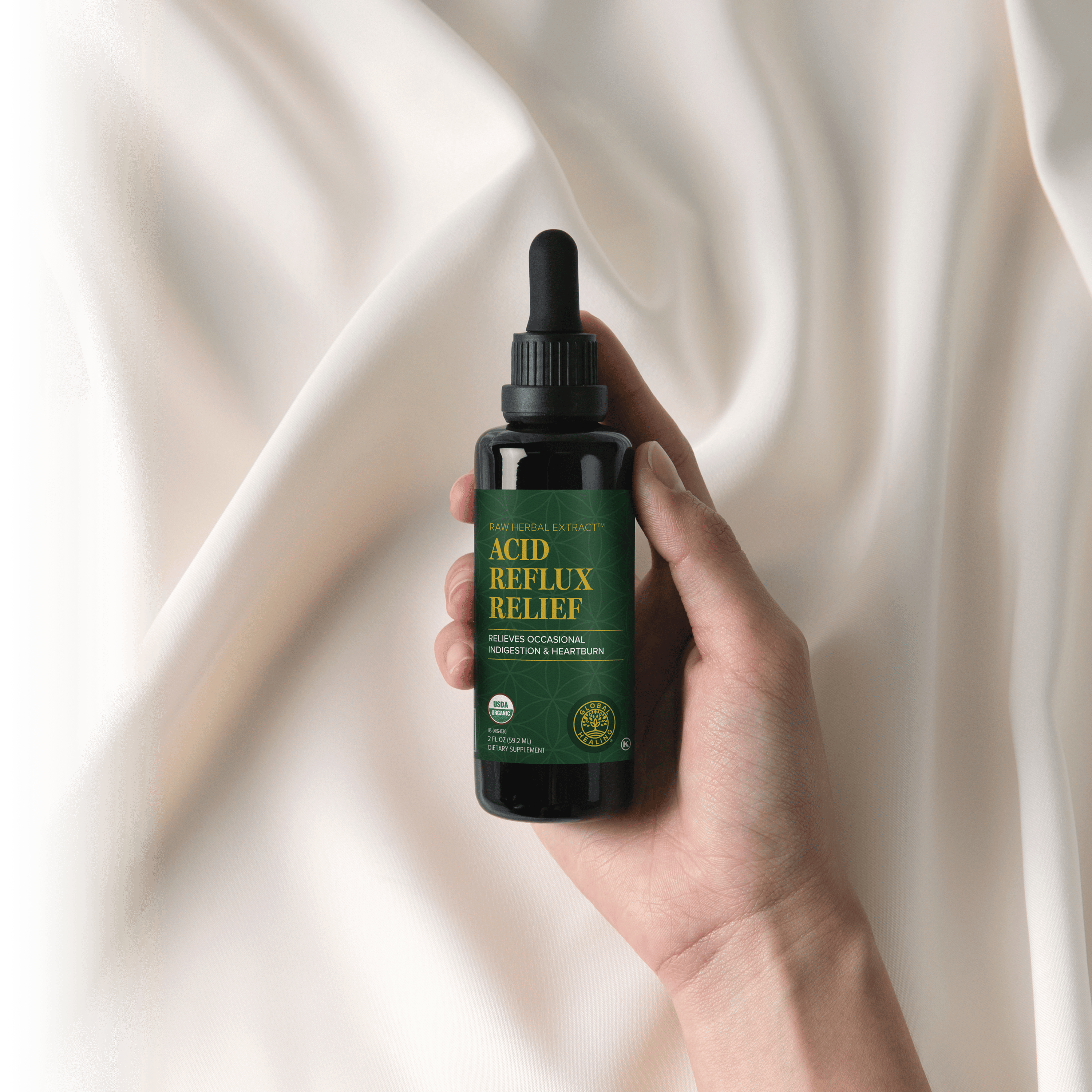 Preserving the Essence of Natural Ingredients
Acid Reflux Relief is packed in premium MIRON's violet glass. This luxurious violet glass not only serves as a natural barrier for preserving the product's energy and quality, but also boasts unparalleled storage capabilities compared to conventional glass, plastic, or aluminum packaging. MIRON's revolutionary glass technology eliminates the need for preservatives, ensuring a longer shelf life and promoting sustainability through the possibility of reuse and recycling.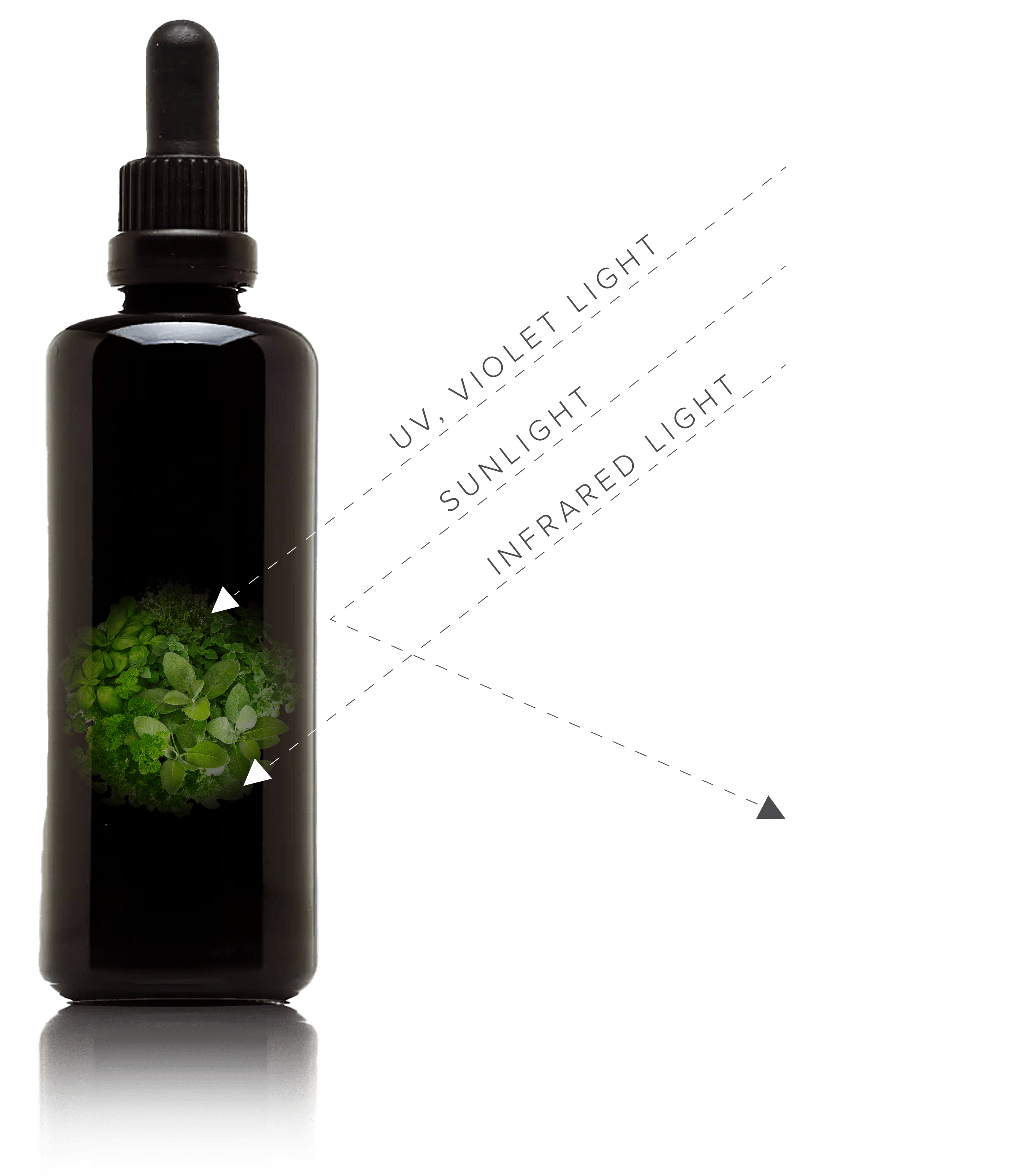 Curate Your Collection
Our customer success team selected these products to further transform your gut health.
Full-Spectrum Enzyme Blend
By breaking large, complex food molecules into smaller, more easily digestible components, digestive enzymes can facilitate a more efficient digestion process. This could lead to less undigested food sitting in the stomach, reducing the chance of acid reflux.
$24.95
Frequently Asked Questions
Is the product suitable for children?

While it may be possible to consider this application, Acid Reflux Relief is not tested for children. Please use discretion and also consider working with your natural healthcare provider before use to determine if this is an ideal fit for your child.
Can I use this if I have GERD?

This product is excellent for soothing occasional heartburn, indigestion, and digestive irritation. Although it cannot treat a medical condition like GERD, it may still be helpful for you.
What is the difference between Acid Reflux, and GERD?

Acid Reflux is the physiological condition of stomach acid traveling up through the lower esophageal sphincter, which results in the symptom of heartburn.

GERD, or gastroesophageal reflux disorder, is the term for chronic acid reflux that either occurs several times per week or has persisted over a longer period of time, usually 6 months or more.
Is it ok to use this acid relief long-term?

This product is safe for daily consumption (as recommended on the label), or as is needed.
Is this safe for pregnant women?

This product is not tested for this application. Please consider checking in with your healthcare provider before use.
What other product could help with Acid Reflux?

You may like to consider the following supportive product to help flush and rejuvenate the entire digestive tract: