Regular price
Sale price
$24.95 USD
Unit price
per
Sale
Sold out
Get notified when this product is back in stock.
Hydrating Mist for Face and Body
The name says it all for our aromatic botanical mist that refreshes and hydrates the skin. Our certified organic Glow utilizes plant hydrosols like jasmine and rose to soothe, refresh, and soften anytime. We've also included botanicals with aromatherapeutic benefits, going beyond skin health to help you feel calm and relaxed. ORMUS Supercharged Minerals enhance the energetic frequency. Use Glow on a bare face, after makeup, or to rehydrate mid-day. Packaged in an ultra-luxe MIRON Violet glass jar to preserve the delicate, natural plant-based ingredients.
Oily, combination, mature, sensitive, dry, balanced, blemish-prone.
Shake bottle, then lightly mist face and body. Use throughout the day for refreshed, vibrant skin.
View full details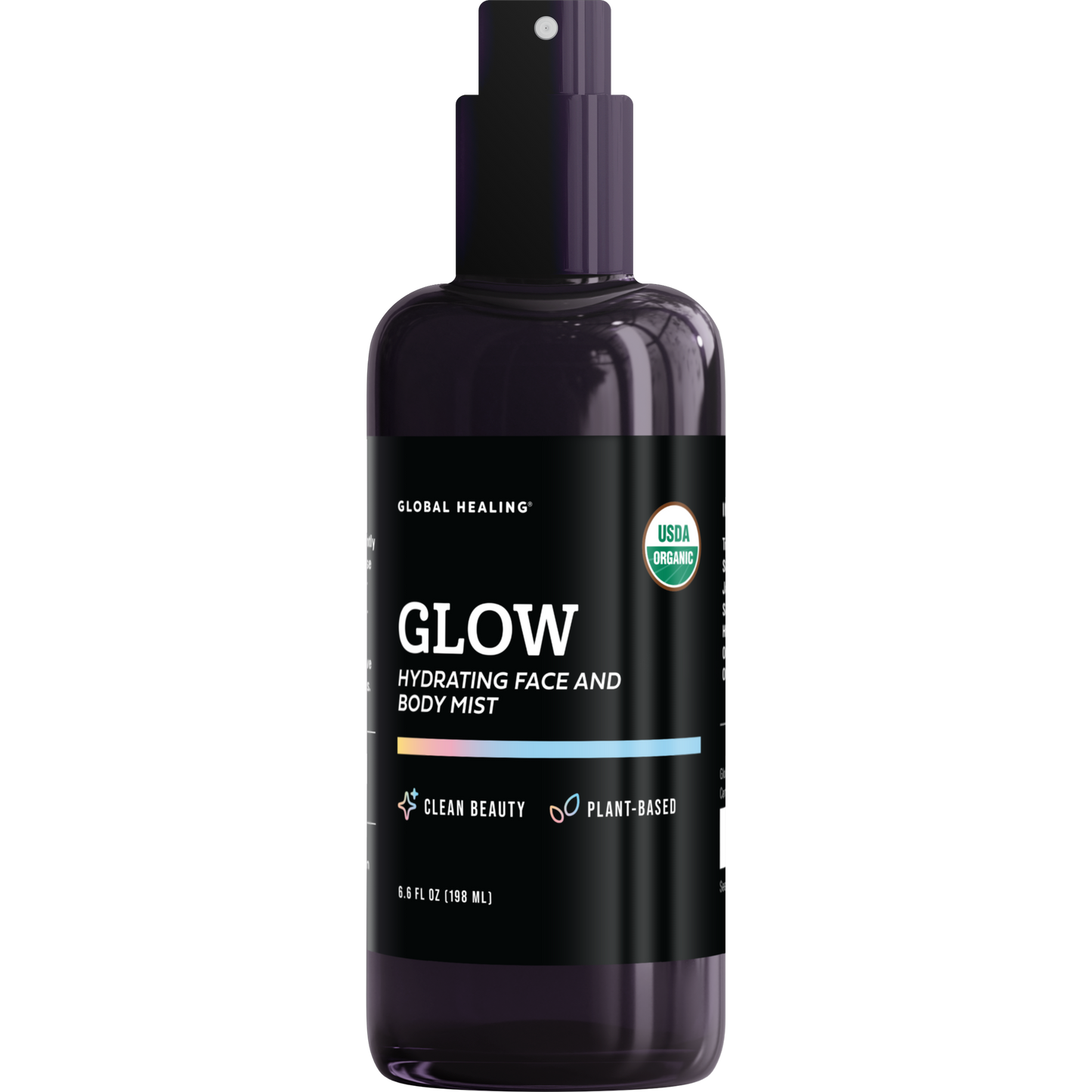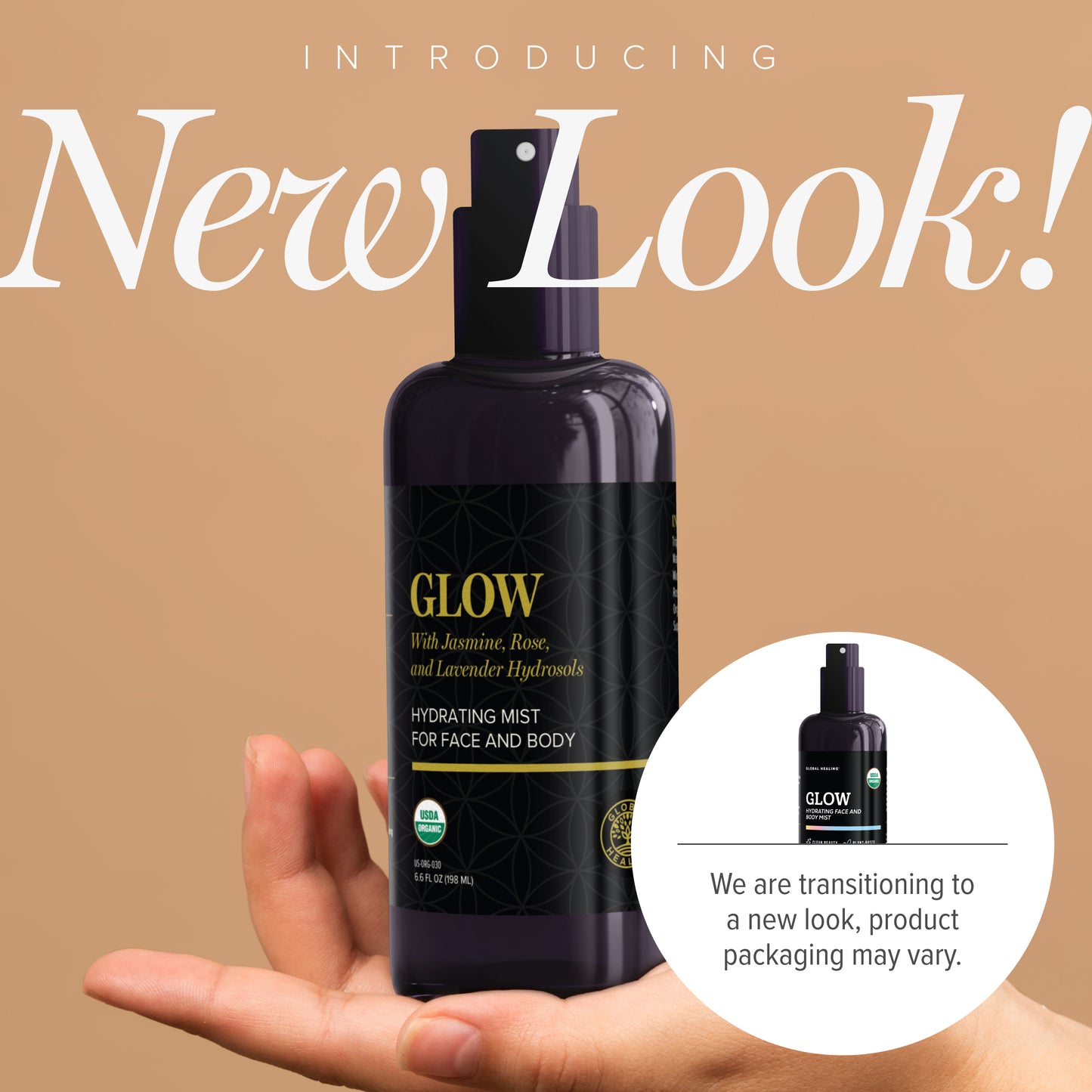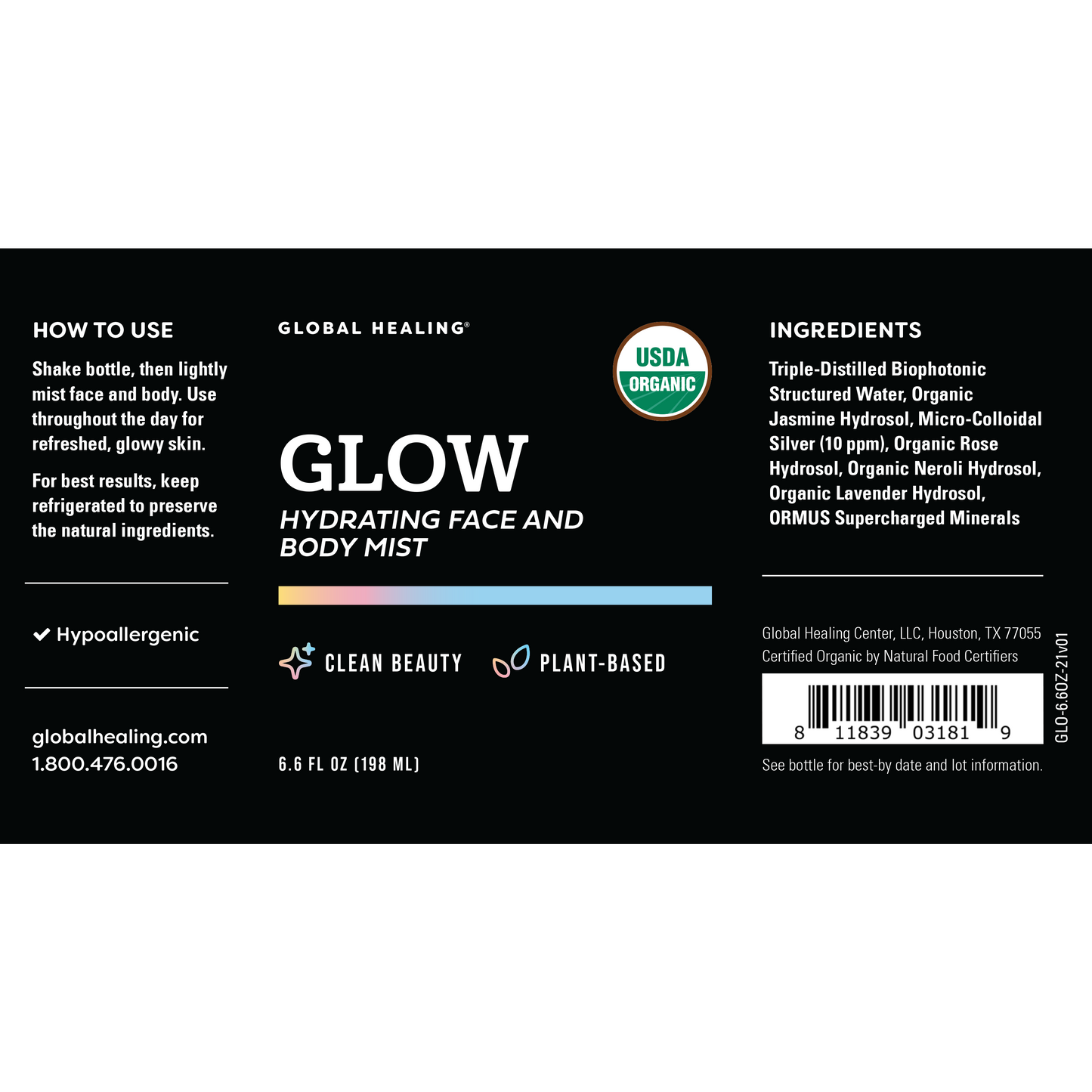 Uniquely Made

Gentle, Botanical Mist

We understand the importance of avoiding harsh chemicals that can irritate your skin. That's why we have carefully formulated our mist to be free from synthetic ingredients commonly found in other skincare products. We want you to feel calm and rejuvenated when using our mist, so we have combined the purest plant hydrosols to create a refreshing and revitalizing experience. Unlike many cosmetic products that contain chemicals like oxybenzone and parabens, our commitment to using gentle, natural ingredients ensures that your skin is treated with care. We provide a safer and healthier option for your skincare routine.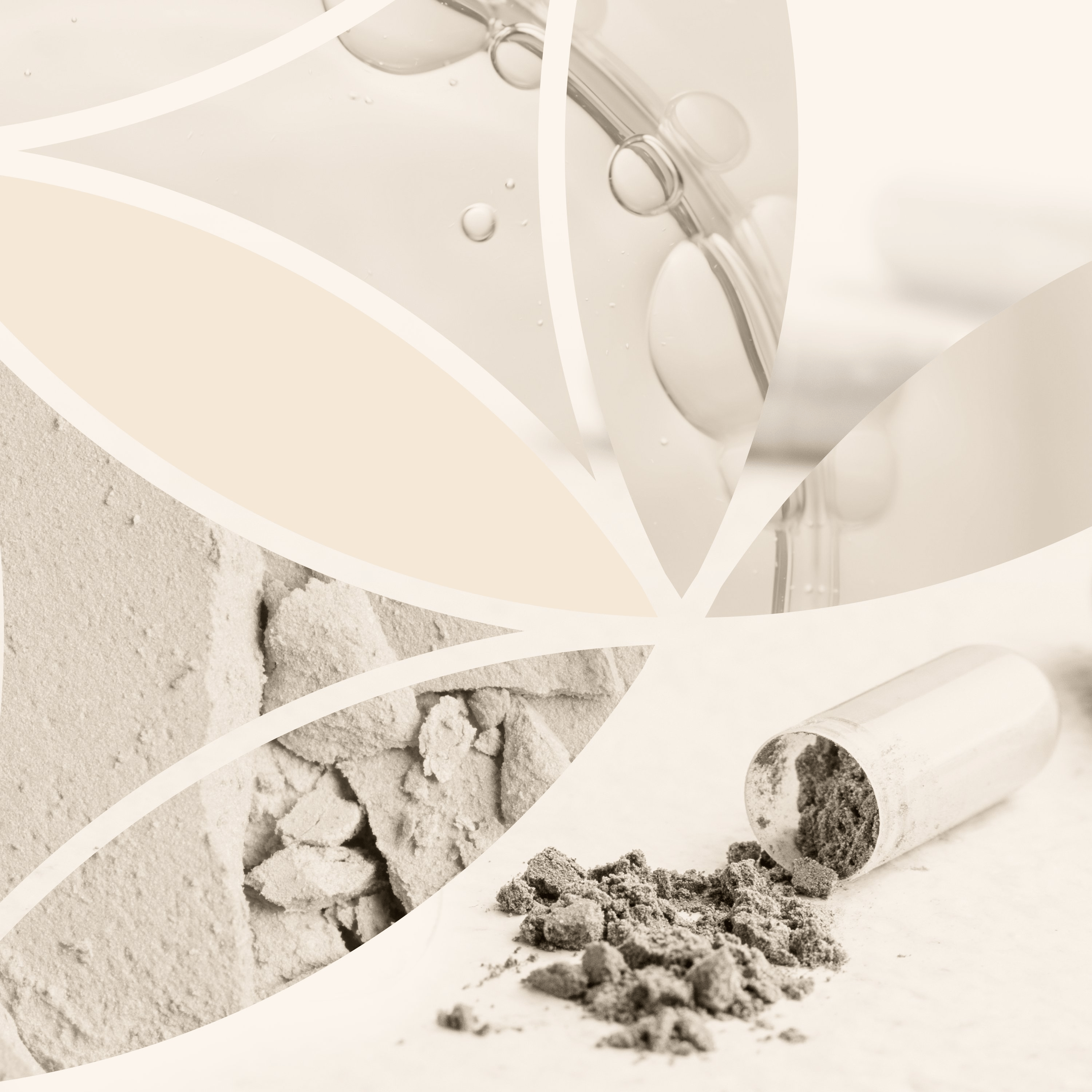 The Benefits

How Glow Leads to a Better Skin.

Refreshes the skin for a dewy complexion

Deeply hydrating and softening

Aromatherapy for your face, arms, neck, and chest
Made With

Clean, Pure, Premium Ingredients
100% VEGAN | GLUTEN-FREE | NO ADDITIVES, FILLERS, OR PRESERVATIVES
Utilizes a unique purification process that removes impurities and enhances the water's molecular structure. This structured water has increased bioavailability, allowing it to deeply hydrate and nourish the skin at a cellular level, promoting a healthy and vibrant complexion.
Helps soothe and hydrate the skin, promoting a radiant complexion and reducing signs of inflammation and irritation.
Rejuvenates and balances the skin, providing moisture and improving the appearance of fine lines and wrinkles while leaving a refreshing and floral scent.
Possesses antibacterial properties that can help clarify and tone the skin, while its uplifting aroma helps relax the mind and reduce stress.
Calms and nourishes the skin, reducing redness and promoting a clearer complexion, while its soothing fragrance promotes relaxation and tranquility.
The Impact

Love it!

From Theresa B.

I didn't think having soft, healthy skin could be so easy, but with GLOW, it really is! Just spray it on several times a day and it makes you feel so hydrated. Keeping it in the fridge helps cool you down on a hot summer day. I have very sensitive skin and am very pleased GLOW helps and I don't have any negative reactions.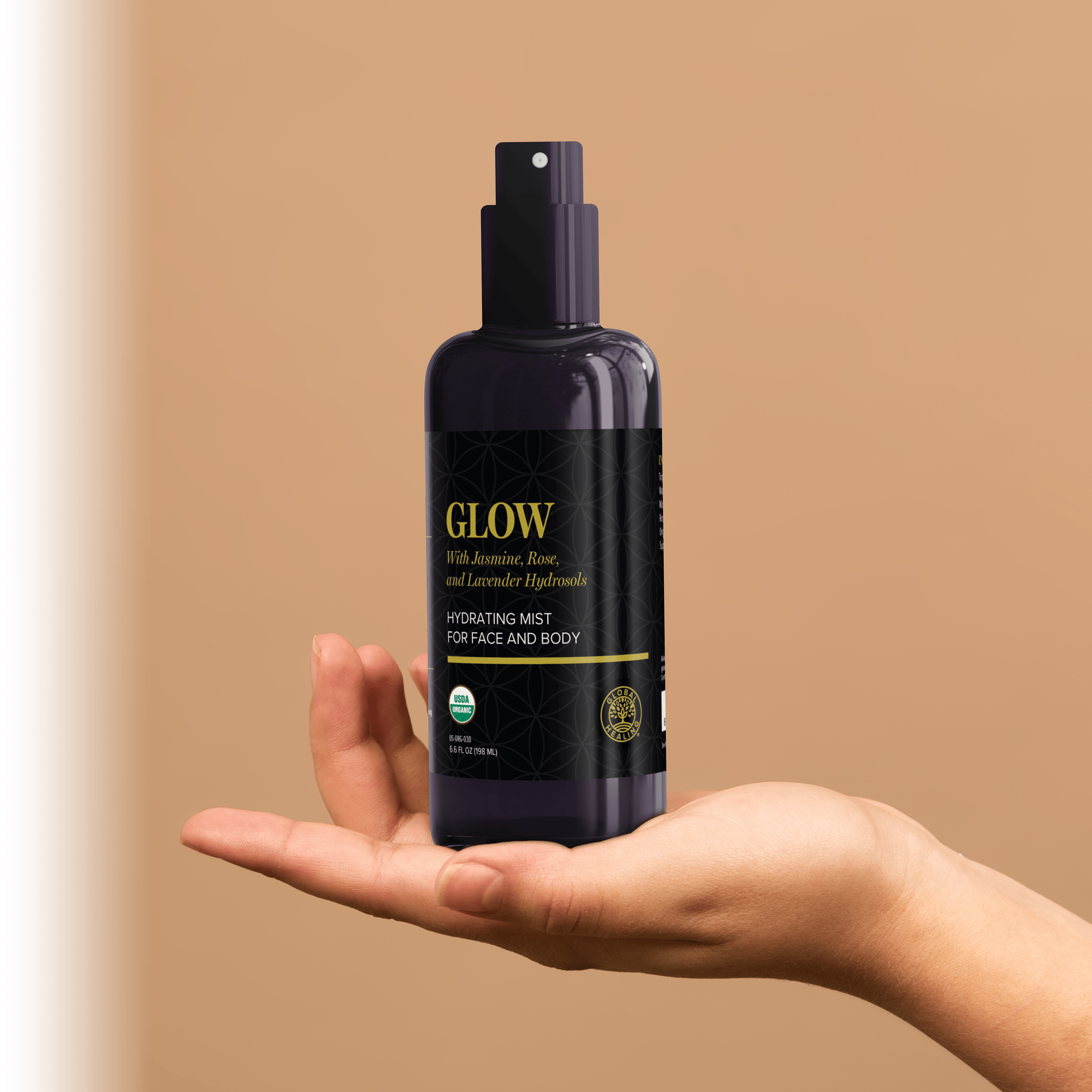 Preserving the Essence of Natural Ingredients
Glow is packed in premium MIRON's violet glass. This luxurious violet glass not only serves as a natural barrier for preserving the product's energy and quality, but also boasts unparalleled storage capabilities compared to conventional glass, plastic, or aluminum packaging. MIRON's revolutionary glass technology eliminates the need for preservatives, ensuring a longer shelf life and promoting sustainability through the possibility of reuse and recycling.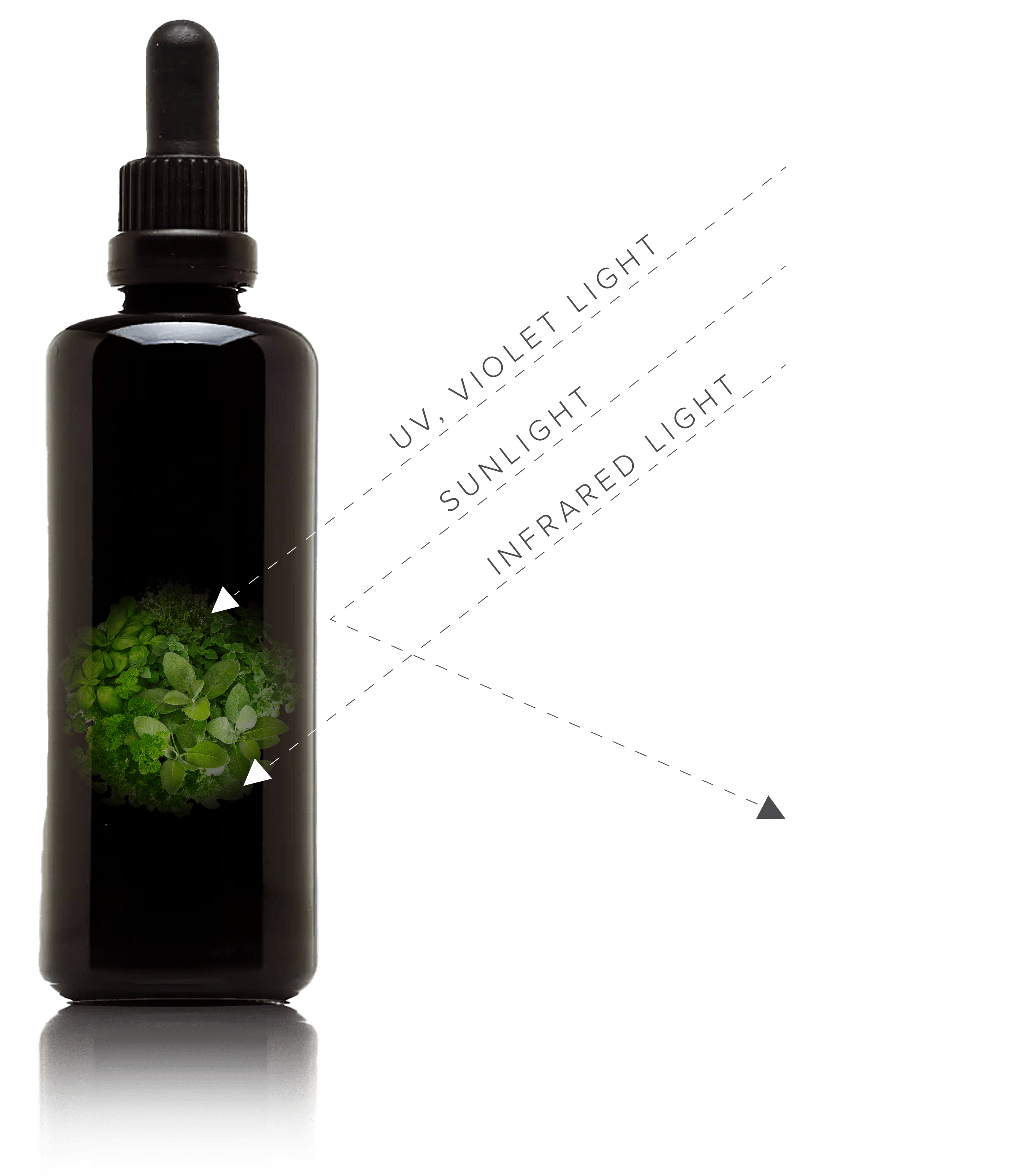 Curate Your Collection
Our customer success team selected this product to further transform your skin.
Hydrating Daily Moisturizer
This lightweight, non-greasy cream is enriched with antioxidants and exotic botanicals to support healthy-looking skin. Day or night, this clean, plant-based face and neck moisturizer will leave your skin supple, healthy, and hydrated.
$59.95
Oxygen-Infused Skin Care
Uniquely crafted by bubbling ozone through organic olive oil to saturate it with oxygen, Skin Therapy moisturizes like nothing else. Whether you suffer from dry, cracked skin or need a little love for itches and scratches, Skin Therapy can be used for just about any skin-related need.
$29.95
Frequently Asked Questions
How many ounces are in one bottle of Glow?

One bottle of Glow contains 6.6 fl oz. Depending on use, one bottle may last 1-2 months.
Will the colloidal silver ingredient in Glow turn your skin blue like other forms?

The colloidal silver within Glow has not been known to affect your skin color (or turn it blue/silver) and is safe for topical use.
Will the colloidal silver ingredient in Glow decrease the skin's natural microbiome?

Colloidal silver is generally known to defend against harmful organisms, soothe your skin and help reduce redness/swelling. It's not known to decrease the skin's natural microbiome.
How should I store Glow?

For best results, keep refrigerated to preserve the natural ingredients.
Is Glow hypoallergenic?

Yes, this product is hypoallergenic.
Is Glow for all skin types?

Glow hydrates and soothes all skin types — combination, dry, oily, and sensitive.
Can I use Glow over or under other skin care products?

Glow can be used on a bare face, with or without facial cream, after makeup, or to rehydrate mid-day.
Does Glow contain organic ingredients?

Yes, our formula is 100% organic.
What are plant hydrosols?

They are water-based by-products from distilling fresh flowers, leaves, fruits, and other plant materials.